Benefits for the operations of the bakery
Working with clean equipment in the bakery has a positive effect on energy use, life time of the equipment and the quality of the product. The equipment once cleaned is ready to use straight away without preparing the trays and without requiring re-coating of the tray. This is in direct contrast to the equipment cleaned by acid dipping. The equipment can be cleaned on site by a mobile processing unit with support from a fixed processing unit for the more difficult cleans. The equipment can be cleaned in one session or on an individual basis with minimal interruption to the activity of the bakery.
Each store can arrange a customized cleaning cycle that suits individual budgets and time frames.

How it works

Cleaning the bakery equipment will be offered as a service.

The baking industry has a lot of equipment where carbon and grease builds up. With other cleaning methods the procedure is often hazardous (toxic) for humans and the environment and corrosive for the equipment itself. The cleaning requires extensive work and time to prepare the surfaces before they can be used again
With the MPU-service all carbon and grease is cleaned off, and the equipment is ready to use immediately. There is no need to recondition or treat anything prior to use and the treatment has no adverse effects on coated equipment.

The system has been tested in 2003 - 2004 in a range of bakeries. You can see the results of these tests here. The latest testing results are in the link at the bottom of this page.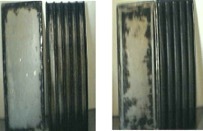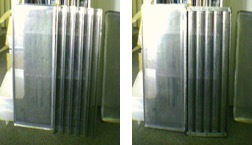 The process

The compound is dissolved in water at a fixed ratio.

A Mobile Processing Unit will come to the Bakery and process the equipment overnight while the bakery is closed.

An Equipment Processing Centre (EPC) supports the mobile processing units. The EPC can handle the larger items as well as completing equipment repairs.
Each vehicle is completely fitted out with the ability to service an entire bakery inventory on site without being dependent on any of the store's facilities. The vehicle has the capacity to handle all the waste product generated from this process without any risk to the store, staff or it's customers.
A wide range of applications are possible. Almost any type of equipment from any industry can be cleaned, like permanent filters for air conditioners, grease vats, etc. Each store can have a variety of items cleaned by the mobile units and the EPC.
With the 2nd generation processing system we have reduced the time required for processing 26-30 trays and are ready for use.
To see the latest information